Gold Coast Roofing Pty Ltd works in conjunction with Stratco and Stramit to supply most up to date metal roof cladding styles.
Our roofing and wall cladding offer the look and strength that has been popular in Australia for well over 100 years and with new steel technology providing improved corrosion protection will ontinue to provide many free years of trouble free life.
With a wide choice of high fashion colours designed to reflect those found in nature, they complement most home styles and will make the difference between an ordinary project and an outstanding home.
These roofing and walling profiles are made from high tensile steel sheeting, providing timeless advantages of high strength, adaptability and good looks.
Our extensive range of roofing and walling profiles are designed to suit a variety of applications, from long length industrial projects to patio and carport installations. Re-roof an existing home, replace your bullnosed verandah, or install a new fence.
Fixing Recommendations and design information is available for all roofing and walling profiles.
Span tables have been determined based on regional terrain and wind conditions, together with coverage details, and material specifications. Our friendly, knowledgeable and helpful staff can help you with your roofing and walling requirements.
CGI Mini Cladding
The visually attractive profile of CGI Mini steel wall cladding makes it an ideal choice for adding corrugated character to walling, awnings, ceilings, soffits and feature panelling.
CGI Corrugated Cladding
With the timeless appeal of a corrugated profile, CGI cladding is a strong and versatile roofing, walling and fencing material. It complements both contemporary and traditional architecture. It is available in long lengths and a range of thicknesses.
Maximus Cladding
Strong, timeless roofing and walling. Maximus cladding features a deeper corrugated profile for increased strength and impact resistance. The timeless appeal of corrugated steel ensures Maximus is a modern classic.
CGI Pre-Curving
CGI Corrugated Curving sheet can be pre-curved by Stratco into a variety of forms to produce concave or convex curves, bullnose roofing, or barrel vaulting (a complete half circle), in either concave or convex arrangements.
CGI Spring-Curving
Curved creations are made possible with a range of cladding profiles from Stratco that support the ability to be spring-curved. Clean lines and sweeping arcs are achieved with the flexibility of spring-curved cladding.
Cooldek® Roofing
Control the climate with the innovative Cooldek insulated roofing panel. Cooldek cladding provides a roof, insulation and ceiling-like finish all-in-one. It has superior spanning capabilities and outstanding cooling performance.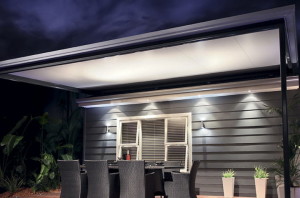 Maxiclad® Cladding
Stratco Maxiclad is an extremely versatile wall cladding material with a clean and uncluttered profile that is suitable for a variety of applications. It is ideal for fencing, walling, screens, fascias, ceilings, gables, sheds and aviaries.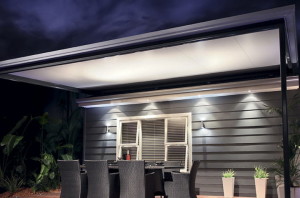 Maxirib Cladding
The thin, attractive profile of Stratco Maxirib makes it the perfect wall cladding solution. It is designed for versatility and presents a low profile appearance. Maxirib is the ideal choice for use on ceilings, walling, fascias and barge boards.
Prodek® Cladding
Prodek is a very strong and versatile cladding material. Prodek is designed to suit a wide range of applications, from verandah, carport and garage installations, to long length domestic and industrial roofing projects.